No more unlimited Internet
Today, in the era of Netflix, Youtube, torrents and other bandwidth-hungry services, finding a truly unlimited Internet connection plan is virtually impossible. Even if your plan says "unlimited" in its title, failure to comply with your Internet provider's written policies could result in the suspension or termination of your Internet service account. Since an average HD movie streaming over Netflix is roughly 3.5 Gigabytes, your Internet provider's policy is probably not as generous as you think.
DU Meter to the rescue!
dumeter.net collects Internet bandwidth usage statistics on your computers, and lets you be truly in charge of your Internet connection. Many people have their Internet connection unexpectedly capped, throttled, or terminated outright over excessive bandwidth usage that they were not even aware of. Don't be one of them. Sign up now!
dumeter.net is free for all registered DU Meter 6 users. 30-day evaluation is available if you don't have DU Meter yet.
Sign up now!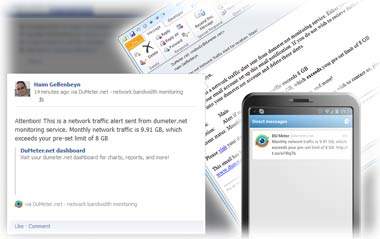 Automatic alerts about excessive Internet usage
Flexible notifications about excessive network bandwidth usage.
See who is consuming most of the bandwidth
dumeter.net displays bandwidth usage of all your computers connected to your account. Your Internet provider can show only the overall totals, which are of course useless if you have several computers in your house and would like to know how much bandwidth each of them used.
In your dumeter.net dashboard you can also find clear and simple charts show daily trends, hourly averages and other important metrics. Detailed daily, hourly and monthly reports are also available, and can be saved and printed easily.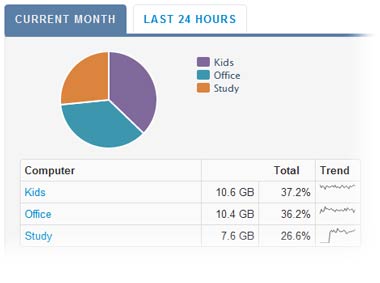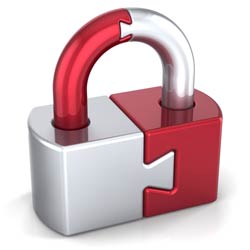 Safe and secure
DU Meter collects only aggregate network traffic statistics. We never see, collect or store your actual data. We don't know your browsing habits, don't know which sites you visit. DU Meter cannot be used to spy on your your children or employees. We respect your privacy, please respect theirs too.
The dumeter.net web site uses high-grade 128-bit SSL encryption for your security. You also have an option to use your Google or Facebook account to log in into dumeter.net: one less password to remember!
We hate spam as much as you do. We will never spam your email or Facebook account.